Si tienes visitas sorpresas o quieres tener algo especial, pero no tienes mucho tiempo, acá está el aperitivo perfecto. En cuarenta segundos puedes transformar esto:
If you have surprise guests or you just want to make something special, but dont have much time, then here is the perfect appetizer. In forty seconds you can make this:
en esto: ceviche de champiñones / into this: mushroom ceviche
Adelante cómo ---> / Ahead how to --->
Ceviche de champiñones / mushrooms ceviche
1 bandeja de champiñones / mushroom package
1/3 pimentón / pepper
1/4 cebolla morada / purple onion
1 puñado de perejil / handfull of parsley
ají / chili pepper
sal / salt
pimienta / pepper
2 limones o limas / limes or lemons
2 cucharadas de aceite de oliva / tablespoons of olive oil
1.- Limpiamos los champiñones y los metemos a la procesadora. / We clean our mushrooms and put them in the food processor.
2.- Después ponemos el pimentón, la cebolla y cuanto ají quieran en la procesadora. / Then we put in the processor pepper, onion and as many chili pepper as you like.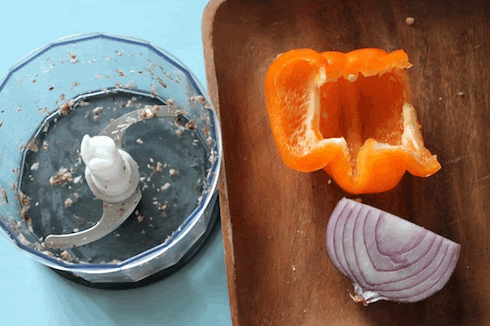 3.- Finalmente ponemos el perejil y lo molemos también. / Last, but not least, we do the same with parsley.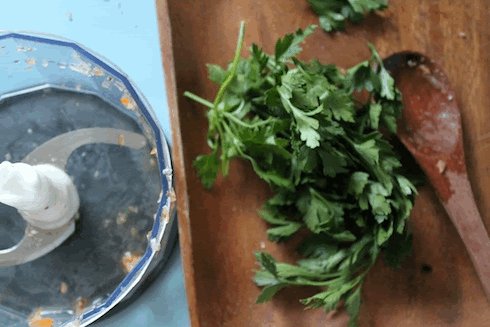 4.- Aliñamos con el jugo de dos limones, ojalá de pica o sutiles, o limas. También con sal, pimienta y las dos cucharadas de aceite de oliva. Mezclamos. / We season with juice of two limes or lemons. Then add salt, pepper, the olive oil. Mix.
5.- Voilà!!! Exquisito / delicious
Acá los servimos con una tortilla calentada en el tostador y partida en pedazos. Es el acompañamiento perfecto y rápido también. / We served it with some tortillas heated in the toaster and broken with our hands. It's the perfect side and fast too.