¿Visitas sorpresa? Necesitas algo rápido de postre o para la hora del té. Entonces, precalienta el horno, que acá viene un cheesecake facilísimo y liviano que puedes hacer y va a estar delicioso en 40 minutos en total. Técnicamente es un pie de yogurt, pero no importa, o sí?
Surprise visits? You need a quick dessert or something for tea time. Then preheat your oven, because here comes a light and very easy
to make
cheesecake
that will be delicious in 40 minutes total. Technically it's a yoghurt pie, but does it make any difference?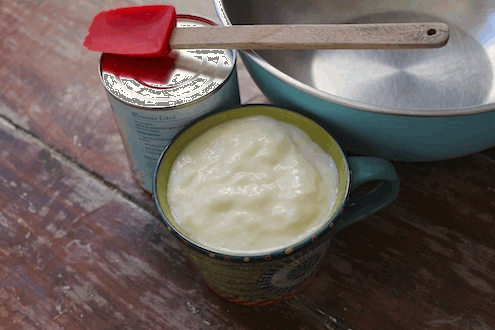 Así se hace / This is how it's made
Así se come, muy rico! / This is how you eat it, so nice!
La receta más adelante ---> / Recipe ahead --->
El cheesecake más fácil / The easiest cheesecake
para un molde mediano / for a medium mold
1 taza de yogurt / cup of yoghurt
1/2 tarro de leche condensada / condensed milk tin
base de masa preparada o galletas molidas / premade dough or crumbled cookies as base
fruta de a estación / seasonal fruit
1.- Precalentar el horno a 180ºC/350ºF Ponemos en nuestro molde alguna masa si tenemos, o si no una base de galletas molidas con la procesadora. / Preheat the oven to 180ºC/350ºF Then cover the mold with any dough you have or crumbled cookies made with a food processor.
2.- mezclamos en un bowl el yogurt y la leche condensada. Lo ideal es que el yogurt sea natural, pero no pasa nada si tiene algún sabor. Prueben la mezcla para ver si les gusta más dulce, entonces le añaden otro poco de leche condensada. / Mix yoghurt and condensed milk in a bowl. Best if it's a non flavor yoghurt, but any flavor would do the trick. Taste your mix and if you like it sweater, then add a bit more condensed milk.
3.- s
i usamos masa preparada previamente, la podemos cocer sola primero por unos 6 minutos. P
onemos la mezcla sobre nuestra base y encima algo de fruta, queda muy rico con frambuesas, frutillas o torrejas de durazno. No hay nada de eso ahora, así que las manzanas o las peras son la opción. / if you use premade dough you should cook it by itself for about 6 minutes. Then pour the yogurt mixture over the base and add some fruit on top, it's very nice with raspberries, strawberries or peach slices. We are not in season now so we can settle for apples or pear slices, almost as nice.
4.- ponemos nuestro cheesecake al horno por 30 minutos o hasta que esté dorado y listo! Puede que el relleno tenga burbujas, pero no se preocupen, bajan y se asientan apenas se empieza a enfriar. Exquisito! / we put our cheesecake to the oven for 30 minutes or until golden and it's ready! You might find the filling is bubbling, but it will settle and go down as soon as it starts cooling. Delicious!